Elder Scrolls Lore
Elder Scrolls Lore: Ayleidoon
Ayleidoon is the ancient language of the Ayleids. In one of my recent posts, I referenced a book, listing a few common Ayleid inscriptions and their translations. At first glance the language looks indecipherable, but I aim to show you how simple it really is. Ayleidoon grammar is this in a nutshell:
Ownership: To imply ownership, an "e" is added to the end of the word. Av, or "of" can be put between the item and its owner.
Example: Sel Umarle means "Umaril's Hall"

Sel Av Umarile means "Hall of Umaril"
Plurals: To imply multiples of an object, "i" or "is" or "ia" is added to the end of the word.
Example: Seli means "Halls"

Varla, or "Star," ends in a vowel; therefore, Varlais is "stars."
Compound Words: Most of Ayleidoon words are comprised of combinations of adjectives and nouns, or two nouns. In the case of Noun1Noun2, the word can be translated to "Noun2 of Noun1."
Ceysel (shadow + hall) means "Hall of Shadow"
Imperatives: An imperative, or command, ends with the suffix, "-voy." If the imperative is aimed at a specific item, "an" (which translates to "the") is put between the imperative and the item.
Barravoy an karan means "Wear the armor," whereas Barravoy karan means "wear armor."
Now that you know the simple grammar, all you would need to understand an inscription is a dictionary containing all known Ayleidoon words. In other words, have this at hand.
Here's a list of some common words:
As - 

By

Ae, Na - Is
Angu - Me
Angua - My
Angue - Mine

Nou - Our
Sou - Your
Tye - You
Ma - What
Man - Who
Ry - As
Va - In
Ye - And
Yando - Also
Here's a list of some words you may have heard in your travels:
Agea - Lore
El - A title to show holy/important significance, like in "Auri-El"
Ehlno - Mortal, as in Ehlnofey
Wel - Child
Kynd - Sky
Molag - Fire
Bal - Stone
Magicka - Magic
Quiz!
1. Translate this: Barra agea ry sou karan.

2. Translate "dark times" into Ayleidoon, knowing: 
Answers here:
An Announcement
Hello, followers and visitors! I'd just like to inform you that a new guest writer is being added to the blog. The previous submit (and really, all text submits) was written by him. This is still my blog, but he's going to come in and write sometimes. I'm adding him because, 1) he's a great writer, and 2) we talk about Elder Scrolls a lot, and many of his ideas have made it to this blog. Enjoy!
Not Everything We Say is Always True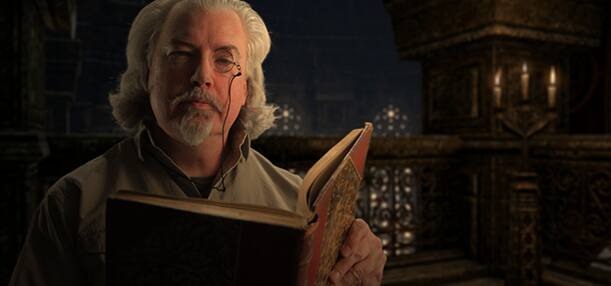 Elder Scrolls lore comes from a variety of sources from events in game, dialogue with NPCs, in-game books, developer commentary (in interviews and forum responses), and fan theories. With all these different sources - some conflicting with one another - it is hard to know what sources can be considered "canon" for the Elder Scrolls universe. 
While I think we can all agree that fan-made theories do not fall under the "canon" umbrella, and while we can assume the events we experience in-game do indeed happen, the authority of the other categories is hazy. Several in-game books - the Monomyth and the Anuad, for example - directly contradict one another. As well, the books' authors have a history of being heavily biased. Mark Nelson (a.k.a "BlueDev" when he was on the ES forums) once explicitly stated this point, saying, 
The PGE* says the Hist are an intelligent strain of Argonians. But it was written as a piece of Imperial propaganda. So, the author is writing with a bias, and, in some cases, is misinformed…

When it came time for me to flesh out the Argonian history (and you can't have Argonian history without a little "hist"), I had to try and decipher what truths could be gleaned from the various sources. So…the Hist are trees, and very special to the Argonians, for reasons I'm not gonna go into yet. Perhaps the author of the PGE got a little confused when hearing Argonians talk about the Hist. Could be that what they were saying led him to believe that they were speaking about other Argonians (read into that what you will).

*Pocket Guide to the Empire
As well, the characters can give descriptions of events and ideas, but those are contradictory as well (take, for a shining example, the Talos controversy). But what about the commentary of the developers themselves? Is that canon?
While a discussion on, "What is canon?" can go on ad infinitum, I find that the developers at Bethesda have chosen to undermine their authority on the matter in order to give them greater mobility. Gary Noonan (a.k.a VXSS or Wormgod), who has been a developer at Bethesda since Battlespire, says this about developer commentary:
By putting something in concrete, you limit yourself downplay suspense and originality for further developments and such. Not everything we say is always true. Sometimes, even we developers speak out of personal beliefs and idealisms about certain aspects of TES. And it is NOT always correct…. many times, it is INcorrect purposely. ;)

Not to be cruel, but its keeps everything very dynamic and ever evolving. Just because we tell you a red stick is white, it doesnt mean it isn't really green.
While it may be fun to speculate on what has been discussed in the forums, it is important to keep in mind the fact that the group of people working on The Elder Scrolls games has been ever-changing. The current Lead Content Designer for ESO, Lawrence Schick, wasn't even involved in Skyrim. What the developers say is only their ideas about the universe. With an ever-changing group of developers working on the games, it is inevitable that the ideas one person has held in the past may not be realized later on, and new ideas may come in which previous generations of developers never imagined. As Mr. Noonan said, the world of Nirn is ever evolving. 
So next time you see a post about a developer's ideas about the Argonians, the Kahjiit, or Nirn in general, keep in mind that the developers themselves never intended to make those comments as though they were canon. Always take them with a grain of salt. 
Elder Scrolls Lore: Ayleid Inscriptions Translated
By Beredalmo the Signifier:
Av molag anyammis, av latta magicka - "From fire, life; from light, magic"
Barra agea ry sou karan - "Wear lore as your armor"
Agea haelia ne jorane emero laloria - "Wisdom learned by pain is a reliable guide in dark times" (literally, "Terrible wisdom never betrayed the loremasters")
Nou aldermis mathmeldi admia aurane gandra sepredia av relleis ye brelyeis ye varlais - "Our exiled Elven ancestors heard the welcoming gifts of peace in the streams and beech trees and stars" (Mathmeldi means literally "from-home-driven"
Suna ye sunnabe - "Bless and blessed be"
Va garlas agea, gravia ye goria, lattia mallari av malatu - "In the caverns of lore, ugly and obscure, shines the gold of truth"
Vabria frensca, sa belle, sa baune, amaraldane aldmeris aldonai - "The foaming wave, so thunderous, so mighty, heralds the lordly Elves"
I'm splitting this post by eslore into a new thread.

I have to point out something, for validity's sake: I am skeptical of what Lady Nerevar says about the Argonians in Morrowind. I have seen no proof of this, though it is plausible. The two references given are also not…
I appreciate the response. Thank you! There is still a lot to support the idea that it is merely myth/rumor. However, this gives me a lot to ponder.
Edit: I would like to clarify that I do recognize the reproductive influence of the Hist sap, and the power of the Hist to alter Argonian appearance/biology. My skepticism is in response to the idea that Hist sap is required to determine biological sex.
The question of LGBT people in TES comes up rather frequently, so I thought I'd try to put together a list of specific characters and references. Please note that characters who are not on this list may still be LGBT - this list isn't supposed to be a detailing of everyone's sexuality or gender…
I have to point out something, for validity's sake: I am skeptical of what Lady Nerevar says about the Argonians in Morrowind. I have seen no proof of this, though it is plausible. The two references given are also not valid (one proves nothing, and the other is a reference to her own writing).
My argument against such an idea: there are many Argonians who have never been near Hist sap, however they are not sexless. Considering this, I would say that the idea is merely rumor.
I would like to hear more of this idea, though. Perhaps there is more evidence?
"Are the Hist trees or spirits? I see everywhere people talk about "Hist trees" as being the actual Hist, but ESO suggests that the trees merely act as conduits to the true Hist, which is everywhere."
-Anonymous
Both? I would say it's a matter of perspective. My perspective is that the Hist are extremely spiritual and powerful tree-beings, who exert a field of influence on the world. There is a "Voice of the Hist" that speaks to the Vestige in Shadowfen (x), which indicates that the Hist have some sort of spiritual origin, and that there are many of them (the Voice speaks of "we"). So, I would not go so far as to say that there is one true Hist. However, I would say the Hist consider themselves to be one entity, since they are supposedly connected "at the root." Perhaps that is why you're getting a "one true Hist" feel. Now, about the talk of the Hist being "everywhere," I would assume that it is spiritual jargon. The Hist's influence is everywhere, especially since their children, the Argonians, are "everywhere."
Still, I would like to see where in ESO there is a "one true Hist" being implied. The Hist are very mysterious, so really anything could be the case.
Kvatch is located in West Weald, near the border of Gold Coast. The exact date of the founding of Kvatch is unknown, but we know the city has been around for more than thousand of years. The historian recorded that back in the First Era, along with Skingard and other Colovia kingdoms, Kvatch resisted the hegemony of the Alessian Order. Soon this movement was supported and followed by the Direnni clan of High Rock and King Wulfharth of Skyrim.

 The city was home to the only Arena other than the one in the Imperial City. It is the site of an early battle between Daedra and the people of Tamriel. 

Most of the town had been turned to burning rubble by the time the Hero of Kvatch got there. Before its destruction, it was the second largest city in Cyrodiil, in front of Skingrad and behind the Imperial City. Kvatch was apparently rebuilt after the Oblivion Crisis.
(via twomoonsdance)
The Province Of Cyrodiil. 

Anvil

Kvatch

Chorrol

Skingrad

Bruma

Bravil

Leyawiin

Cheydinhal

Last but certainly not least: The Imperial City
(via freetickettomyhead)